As I say every month... Is tomorrow really the beginning of May? I'm excited about May though. I get to go see my family this month and it also means I will get to go home to Tennessee. My beloved state that I miss ever so much. I haven't seen my parents (other than video chatting) since Thanksgiving. :( That also means they haven't seen their granddaughter in just as long, so I know they are super excited too. :)
Since it's the end of April it means it's favorites time again.
Here are my latest faves....
The nail polish I've been wearing a lot the month of April has been China Glaze's Lemon Fizz. It is such a pretty light yellow. I started out wearing it at the beginning of April and currently have it on my nails today, at the end of April. ;)
Another product I had to throw into my faves, because I finished a tube this month and thought it deserved some recognition is the Colgate Sensitive Pro-relief. I usually use Sensodyne but had some coupons to save on some Colgate during a sale so I grabbed up some and it works just as good. If you have sensitive teeth like myself then definitely try it out. I can use regular toothpaste but after maybe a week of using it I can definitely tell my teeth are more sensitive to drinking and eating.
The makeup product that I picked out for this month and have been using probably most days is a neutral palette by Rimmel London. A glam eyes quad in 002 Smokey Brun. If you are interested in picking up this palette and have a local Walgreens Rimmel products are currently 50% off this week. I love this little quad. It goes with everything. Some days I'd use all four colors and some days I'd just use the two side colors. If you haven't picked up the UD Naked palettes or don't plan to because of their cost then definitely grab this little quad, great alternative.
I bought me some sterling silver teardrop earrings, real simple but super cute at JCPenney's a couple weeks ago and have been wearing them almost everyday too. I'm loving JCP's new 'Fair and Square' deals. I picked up these originally $40 earrings for $5. Eeee!! I also picked up another leafy style that I love too, also for $5. While i'm mentioning sales at Penney's. I picked up several tops that were on sale for $4, yes $4. I got a tan blazer for 4 bucks. These sales make me giddy. I love it!
My last fave from above is the Clean & Clear foaming facial cleanser. I use Purity Made Simple to take off my makeup and it's suppose to be a cleanser as well but I just feel weird not using something that foams up to clean my face. So... after I wash off my makeup I have then been using this product to clean my face. It is also the medicated kind so it kills bacteria as well so thats good. Clean & Clear has always been a tried and true brand for me. I love their scrubs too. Walgreens also has their products on sale this week 2/$10 plus get a $4 register reward back so basically like paying 2/$6. I used some coupons on them and picked me up a new bottle of this product and some body wash, which i've never tried before. I will let you know how the body wash turns out.
Those were all of my faves for the month but I just thought I would mention a couple of other things i've been loving.
Minwax stain in English Chestnut.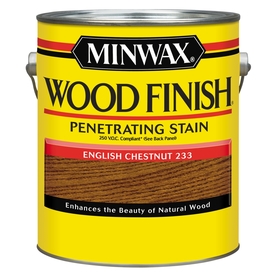 I stained
these bookcases
in English Chestnut and I love the color. I usually use dark walnut but i'm definitely glad I choose to go with this stain color instead.
The last thing I wanted to mention was a book series I read this month. 50 Shades of Grey, although not written great it still had me turning page after page.
What where your faves for the month of April?